I. Introduction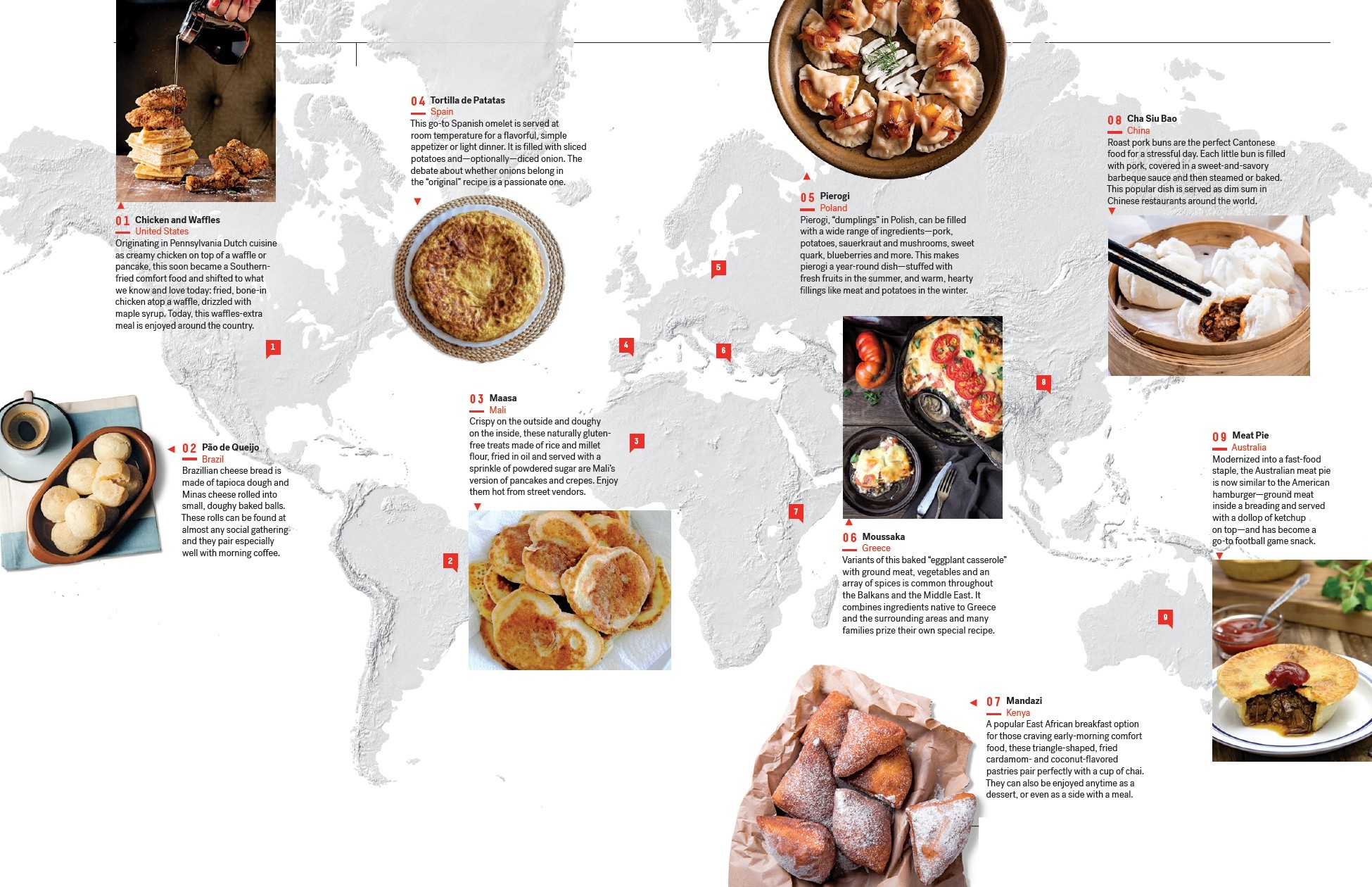 Food has always played a significant role in our lives. It brings people together, evokes memories, and provides comfort during difficult times. When we think of comfort foods, we often associate them with familiar flavors and dishes that warm our hearts and lift our spirits.
In this article, we will take a culinary journey around the world to explore some of the most beloved comfort foods from different cultures. From steaming bowls of ramen in Japan to hearty shepherd's pie in England, these dishes have the power to transport us back home or introduce us to new flavors that provide solace.
So sit back, relax, and let's embark on this delightful exploration of comforting cuisines!
II. Comfort Foods from Europe
Europe is known for its rich culinary traditions, and it has no shortage of comfort foods that can warm your heart and lift your spirits. From creamy pasta dishes to hearty stews, here are some European comfort foods that are sure to satisfy your cravings:
1. Bangers and Mash
Bangers and Mash is a classic British dish that consists of sausages (bangers) served with mashed potatoes (mash). The sausages are often made from pork or beef, and they are typically served with a rich onion gravy. This comforting meal is perfect for cold winter nights.
2. Paella
Hailing from Spain, paella is a flavorful rice dish cooked with various ingredients such as chicken, seafood, vegetables, and saffron. It offers a burst of colors and flavors in every bite. Paella is not only delicious but also visually appealing.
3. Goulash
Goulash originated in Hungary but has become popular across Europe for its rich flavor profile. It is a hearty stew made with tender chunks of beef or pork cooked with onions, paprika, tomatoes, and other spices. Goulash is often served with noodles or crusty bread.
4. Moules Frites
Moules Frites is a beloved Belgian dish consisting of steamed mussels served with crispy golden fries (frites). The mussels are cooked in white wine or beer along with garlic, shallots, parsley, and butter to create a delectable broth.
5. Carbonara
This Italian pasta dish hails from Rome and features spaghetti tossed in a creamy sauce made from eggs, cheese, pancetta or bacon, and black pepper. Carbonara is a simple yet indulgent comfort food that is perfect for pasta lovers.
6. Wiener Schnitzel
Wiener Schnitzel is a traditional Austrian dish that consists of breaded and fried veal cutlets. It is usually served with lemon wedges and potato salad or fries. The crispy exterior and tender meat make it a satisfying comfort food option.
These are just a few examples of the comforting dishes Europe has to offer. Whether you're in the mood for something hearty, creamy, or indulgent, European comfort foods are sure to hit the spot and bring warmth to your soul.
III. Comfort Foods from Asia
Asia is known for its diverse and delicious cuisine, and when it comes to comfort foods, there are plenty of mouthwatering options to choose from. Whether you're craving something warm and hearty or a dish that brings back nostalgic memories, Asian comfort foods have got you covered.
Ramen: A Bowl of Warmth and Flavor
Ramen, a popular Japanese dish, has gained global recognition for its comforting qualities. This savory noodle soup consists of flavorful broth, chewy noodles, and various toppings like sliced pork belly (chashu), soft-boiled eggs (ajitsuke tamago), nori seaweed, and green onions. Each region in Japan has its own style of ramen, making it an exciting culinary adventure.
Dumplings: Bite-Sized Delights
Dumplings are a staple in many Asian countries such as China and Korea. These bite-sized delights can be filled with various ingredients like pork, beef, vegetables or seafood. Whether steamed or fried, dumplings offer a delightful burst of flavors with each bite. They are often enjoyed as a snack or served alongside other dishes.
Biryani: Fragrant Rice Perfection
Biryani is an aromatic rice dish that originated in South Asia but has become popular across the continent. It combines basmati rice with meat (such as chicken or lamb) cooked in fragrant spices like cardamom, cinnamon, cloves, and saffron strands. Biryani is usually garnished with fried onions and served with raita (yogurt sauce) for added freshness.
Pho: Vietnamese Noodle Soup Delight
Pho is a Vietnamese noodle soup that has gained immense popularity worldwide. It consists of rice noodles, flavorful broth made from simmering beef or chicken bones for hours, and a variety of garnishes such as bean sprouts, Thai basil, lime wedges, and chili peppers. Pho is not only comforting but also known for its refreshing flavors.
Miso Soup: Simple yet Soothing
Miso soup is a traditional Japanese soup made from fermented soybean paste called miso. This simple yet soothing dish typically includes tofu cubes, seaweed (such as wakame), and green onions in a savory broth. Miso soup is often served as a side dish with meals or enjoyed on its own during colder days.
These are just a few examples of the comfort foods Asia has to offer. From steaming bowls of ramen to fragrant biryani and hearty dumplings, these dishes are sure to lift your spirits and satisfy your cravings.
IV. Comfort Foods from North America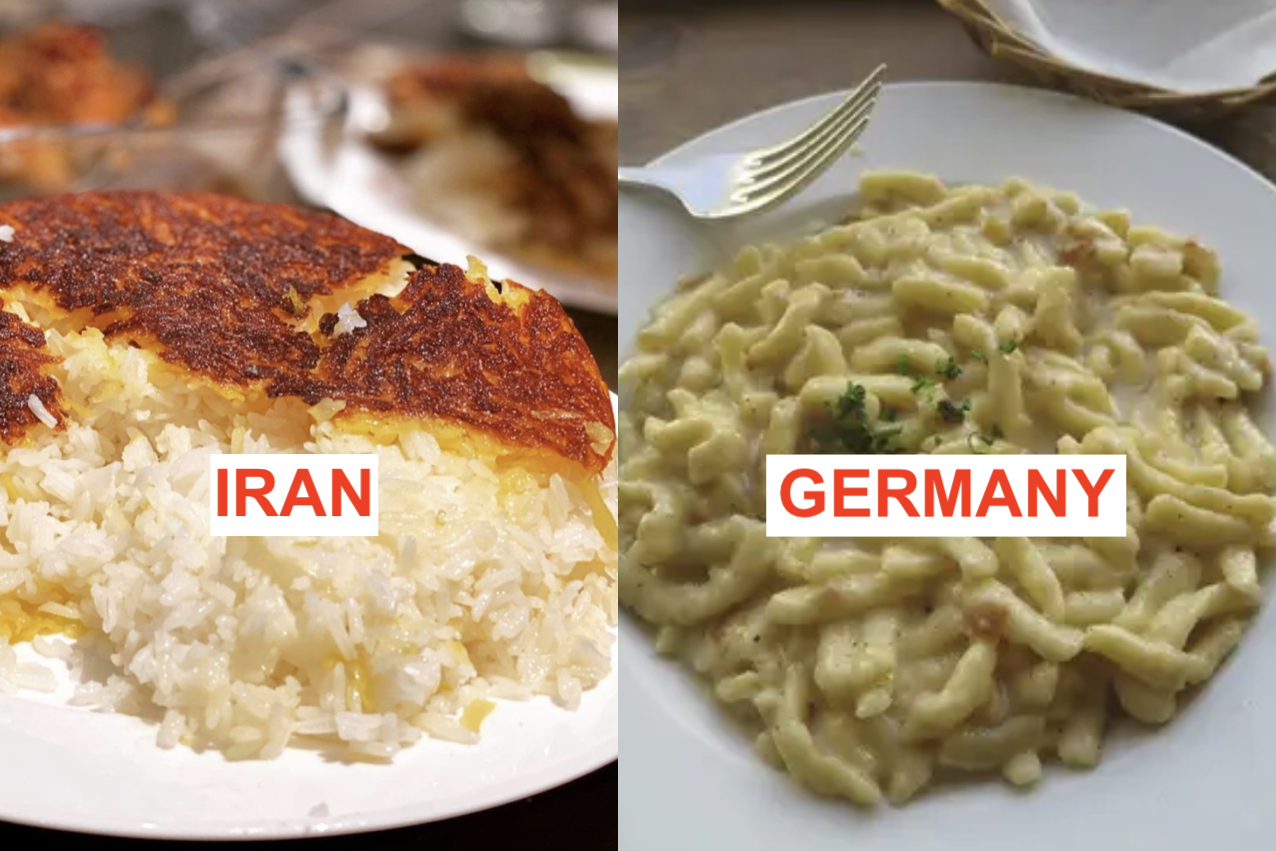 North America is a land of diverse culinary delights, and when it comes to comfort foods, it certainly doesn't disappoint. From hearty stews to indulgent desserts, this region offers a wide range of dishes that will warm your heart and lift your spirits.
The All-American Burger
No comfort food list from North America would be complete without mentioning the iconic burger. Whether you prefer it grilled or fried, topped with cheese or loaded with bacon, the juicy goodness of an all-American burger is hard to resist. Pair it with some crispy fries and a side of pickles for the ultimate satisfying meal.
Southern Fried Chicken
Hailing from the southern states of the United States, Southern fried chicken brings together crispy golden skin and tender meat for a flavor explosion like no other. The secret lies in marinating the chicken in buttermilk before coating it in seasoned flour and deep-frying until perfectly cooked. Serve it with mashed potatoes and gravy for a truly comforting experience.
Texas-style Chili
In Texas, chili isn't just a dish; it's practically an institution. This hearty stew is made with chunks of beef simmered low and slow in a flavorful blend of spices, tomatoes, onions, and beans (optional). The result is a thick and rich chili that warms you up from the inside out. Top it off with shredded cheese or sour cream for extra indulgence.
Poutine: Canada's Pride
Originating from Quebec, Canada's beloved poutine has gained international fame for its simplicity yet undeniable deliciousness. It consists of crispy French fries topped generously with cheese curds and smothered in hot gravy. The combination may sound unusual at first glance but trust us, once you try it, you'll understand why poutine has captured the hearts of Canadians and beyond.
Apple Pie
When it comes to comforting desserts, apple pie holds a special place in the hearts of many North Americans. The combination of tender apples, warm spices like cinnamon and nutmeg, all encased in a flaky crust is simply irresistible. Whether served with a scoop of vanilla ice cream or enjoyed on its own, a slice of homemade apple pie is sure to bring back nostalgic memories.
These are just a few examples of the comfort foods that North America has to offer. Each dish carries its own unique history and cultural significance, making them not only satisfying to eat but also intriguing to explore. So next time you're craving some soul-warming goodness, don't hesitate to indulge in these delicious treats from across North America.
V. Comfort Foods from South America
South America is known for its vibrant culture, diverse landscapes, and rich culinary traditions. When it comes to comfort foods, this region has some delightful dishes that are sure to lift your spirits and satisfy your taste buds. Let's explore a few mouthwatering comfort foods from South America.
1. Arepas
Arepas are a staple food in many South American countries, particularly in Colombia and Venezuela. These delicious cornmeal cakes are made by mixing corn flour with water or milk, forming a dough-like consistency which is then cooked on a griddle or fried until golden brown. Arepas can be filled with various ingredients such as cheese, meat, beans, avocado, or even scrambled eggs.
2. Feijoada
Feijoada is a hearty black bean stew originating from Brazil but also enjoyed in other parts of South America like Portugal and Angola. This comforting dish is typically made with different cuts of pork such as sausages, bacon, and ribs cooked slowly with black beans until they become tender and flavorful. Feijoada is often served with rice, collard greens, orange slices to balance the flavors.
3. Empanadas
Empanadas are savory pastries found throughout Latin America but have their own unique variations in each country's cuisine. In South America specifically Argentina and Chile empanadas are incredibly popular snacks or meals that consist of dough stuffed with various fillings such as beef (carne), chicken (pollo), cheese (queso), spinach (espinaca), or even sweet fillings like apple (manzana) or dulce de leche.
4.Ceviche
Ceviche is a refreshing seafood dish that has its roots in Peru but is enjoyed all over South America. This popular dish typically consists of raw fish or seafood marinated in lime or lemon juice, which "cooks" the fish without heat. The ceviche is then combined with onions, cilantro, and other seasonings for a tangy and zesty flavor. It's a perfect dish to enjoy during hot summer days.
5. Pão de Queijo
Pão de Queijo, also known as Brazilian cheese bread, is a delightful gluten-free treat originating from Brazil. These small baked rolls are made with tapioca flour and cheese (commonly Parmesan), resulting in a chewy texture on the inside and crispy on the outside. Pão de Queijo is often enjoyed as breakfast or as a snack throughout the day.
South American comfort foods offer a tantalizing blend of flavors, textures, and cultural influences that can transport you to this vibrant continent through your taste buds alone. Whether it's enjoying warm arepas for breakfast or savoring a flavorful feijoada for lunch, these comfort foods are sure to bring joy and satisfy your cravings.
VI. Comfort Foods from Africa
Africa is a continent rich in diverse cultures and cuisines, offering a wide array of comfort foods that can warm your heart and lift your spirits. From aromatic stews to hearty dishes made with staple ingredients, African comfort foods are known for their bold flavors and satisfying qualities.
1. Jollof Rice
Jollof rice is a popular West African dish that has gained international recognition for its delicious taste. Made with long-grain rice cooked in tomato sauce, onions, peppers, and various spices, this one-pot meal is packed with flavor. Whether enjoyed on its own or paired with grilled chicken or fish, Jollof rice never fails to provide comfort and satisfaction.
2. Bobotie
Hailing from South Africa, Bobotie is a savory baked dish made with spiced minced meat (usually beef or lamb) mixed with bread soaked in milk and topped with an egg-based custard topping. The combination of aromatic spices like curry powder, turmeric, and cinnamon creates an irresistible aroma while the creamy custard adds richness to every bite.
3. Injera
Injera is a traditional Ethiopian flatbread that serves as both sustenance and utensil in Ethiopian cuisine. Made from fermented teff flour batter cooked on a large griddle-like pan called mitad or tawa, Injera has a spongy texture that soaks up the flavors of accompanying dishes such as Doro Wat (spicy chicken stew) or Misir Wat (spiced lentils). Its tangy taste makes it an excellent choice for those seeking unique comfort foods.
4. Bunny Chow
Bunny Chow originated in the Indian communities of Durban, South Africa. It consists of a hollowed-out loaf of bread filled with curry, typically made with mutton or chicken. The combination of flavors and textures, with the soft bread soaking up the spicy curry, creates a comforting and satisfying meal that is widely enjoyed across South Africa.
5. Ndolé
Ndolé is a Cameroonian dish featuring bitter leaves cooked in a richly flavored peanut sauce. Often prepared with fish or beef and served alongside plantains, rice, or fufu (a starchy dough), Ndolé offers a unique blend of bitterness from the greens and richness from the peanuts. This hearty dish is beloved by many in West Africa for its complex flavors.
Exploring comfort foods from Africa allows you to experience the diverse culinary traditions that have been passed down through generations. These dishes not only provide warmth and nourishment but also offer a glimpse into the vibrant cultures found across this vast continent.
VII. Frequently Asked Questions
Here are some commonly asked questions about comfort foods from around the world:
1. What exactly are comfort foods?
Comfort foods are dishes that evoke a sense of nostalgia, warmth, and emotional well-being. They often bring back fond memories or provide a sense of familiarity and security.
2. Are comfort foods only meant to be eaten during difficult times?
No, comfort foods can be enjoyed at any time! While they are often associated with moments of sadness or stress, they can also be indulged in when you simply want to treat yourself or experience the joy of familiar flavors.
3. Are comfort foods always unhealthy?
Not necessarily. While many traditional comfort dishes tend to be rich in calories and may not align with the healthiest dietary choices, there are plenty of healthier alternatives available that still offer the same comforting qualities.
4. Can I find international comfort food options in my local area?
Absolutely! With globalization and diverse culinary influences across different regions, it is highly likely that you can find international variations of comfort food right in your own neighborhood or city.
5. Are there any vegetarian or vegan options for comfort foods?
Absolutely! Many plant-based dishes can provide both physical and emotional satisfaction similar to their meat-based counterparts. From veggie burgers to hearty stews made with legumes, there's no shortage of comforting vegetarian or vegan options available.
6. How do different cultures define their own versions of comfort food?
Cultures around the world have their unique interpretations of what constitutes as comforting cuisine based on their traditions, climate, ingredients availability, and historical influences. It's fascinating to explore how different cultures embrace their own comfort foods.
7. Can comfort foods be adapted to suit dietary restrictions or allergies?
Absolutely! Many comfort food recipes can be modified to accommodate specific dietary needs or allergies. With the availability of alternative ingredients and creative cooking techniques, you can still enjoy your favorite comforting dishes without compromising your health.
8. Are there any scientific explanations for why comfort foods make us feel better?
Research suggests that certain comfort foods may trigger the release of feel-good chemicals in our brains, such as serotonin and dopamine, which enhance our mood and provide a sense of pleasure and satisfaction.
9. Can I experiment with my own twist on traditional comfort food recipes?
Absolutely! Cooking is an art form, and exploring new flavors or adding personal touches to traditional dishes is highly encouraged. Don't be afraid to get creative in the kitchen and make a recipe truly your own!
10. How can I find authentic recipes for international comfort foods?
The internet is a treasure trove of authentic recipes from around the world. Websites dedicated to global cuisine, cookbooks by renowned chefs specializing in specific cuisines, or even reaching out to individuals from those cultures are great ways to discover genuine recipes for international comfort foods.
Adam Owens is a Food & Recipe Expert and Author with a passion for creating unique and delectable meals. He graduated from Cambridge University with a degree in Food Science. Adam is an avid traveler, who has traveled around the world learning about different cultures and taste profiles to share with his fans. His creative dishes combine the best of traditional methods with modern recipes to produce amazing results. Adam loves to share his favorite recipes and cooking tips on his blog and has a large social media following.